Greeting
Thank you for visiting Tsukuba Heavy Industries, Ltd. The company was founded in 2009, incorporated in 2011, and has been engaged in the repair and inspection of construction machinery, agriculture, industrial vehicles related to distribution vehicles, and heavy machinery as its main businesses. At present, maintenance and repair of various trucks and work vehicles as well as made-to-order are conducted mainly in the four northeastern prefectures (Iwate, Aomori, Akita, Miyagi). We look forward to assisting our customers with any troubles they may have, and will always provide the necessary support for overcoming problems in the industry. As professionals of machine repair that are trusted by our customers, we will work together as a team and consistently make an effort to improve our research. Thank you.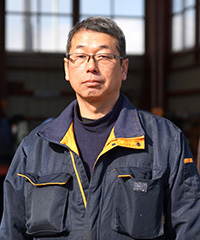 Tsukuba Heavy Industries Ltd.
CEO Naoki Koda
About us
Company name
Tsukuba Heavy Industries Ltd.
head office
18-35-29, Akogi, Kunohe Gun Hirono Cho, Iwate Ken, 028-8803, Japan
TEL:0194-77-5668 FAX:0194-75-3920
Nishine Sales office
18-88-208, Obuke, Hachimantai Shi, Iwate Ken, 028-7111, Japan
TEL:0194-77-5668 FAX:0194-75-3920
E-Mail
Please use the inquiry mail form
CEO
Koda Naoki
Business content
Specially equipped special vehicles, heavy equipment, machinery, bodywork
Design and construction of various control boards
Inspection and repair of small and large vehicles
Inspection and repair of construction equipment and hydraulic equipment
Repair of various chassis and bodies
Blade repair of concrete mixer truck
Other production and processing of hydraulic hoses
Founding
November 2009
number of employees
15 people
business hours
8:30〜17:30
History
August 2013 Management innovation plan authorization
Realization of short delivery time for industrial machine repair etc. by free angle work systemNovember, 2014 Management innovation plan authorization
Construction machine industry's first motion sensor built-in forestry grapple manufacturing and salesOctober 2015
51st "Iwate Prefecture Invention Club Exhibition" Special Prize Morioka Chamber of Commerce President's Award
"A trailer outrigger enclosure"
Head Office Access Map
If you use a car
About 1 hour from Aomori JR JR Hachinohe Station
About 40 minutes from Iwate Prefecture JR Ninohe Station
About 20 minutes from Iwate Prefecture JR Kuji Station
About 10 minutes from Michi no Eki "Ono"
About 30 minutes from Tohoku Expressway "Karumai IC"
Rikuchu Agri Society Ohno Gas Station
※ If you have any questions please feel free to call.
Nishine Office Access Map
If you use a car
About 30 minutes from JR Morioka Station
About 7 minutes from JR Hanawa Line Obuke Station
About 6 minutes from Road Station "Nishine"